River`s Edge Cabin Rental

This beautiful 4 bedroom cabin offers plenty of fun both inside and outdoors. The gently sloping backyard of this riverfront cabin rental leads to the Ocoee River that is perfect for canoes, tubes and kayaks.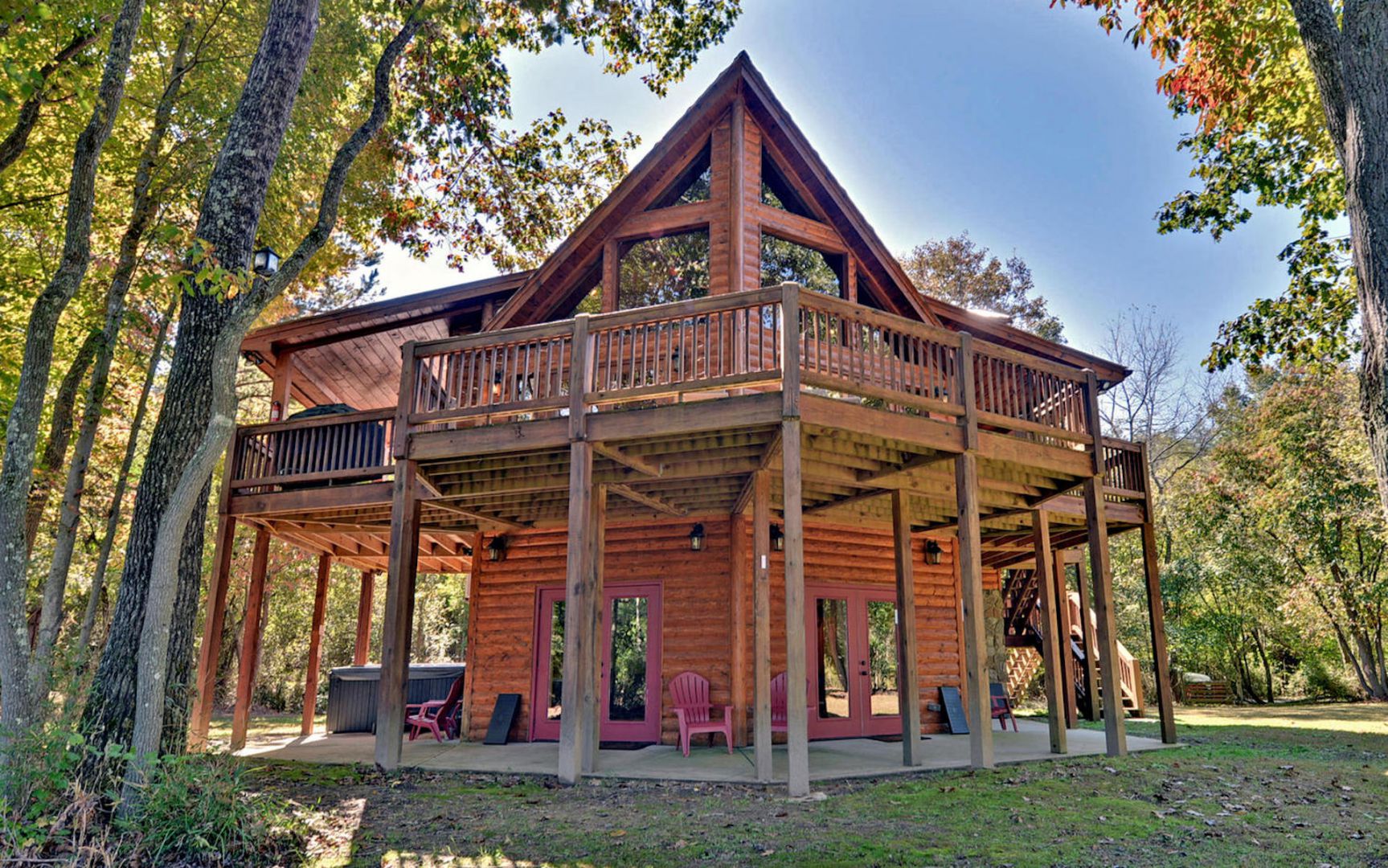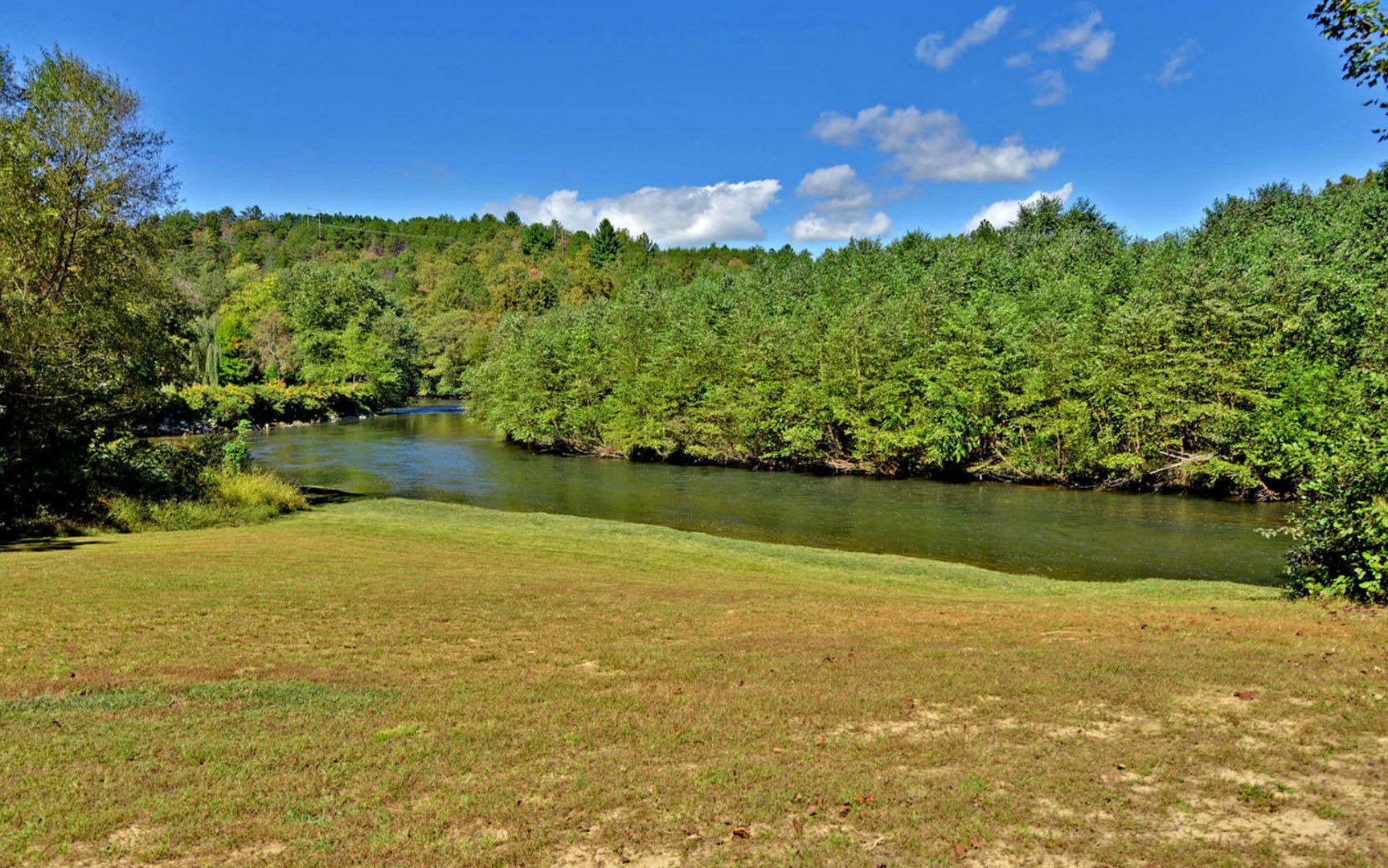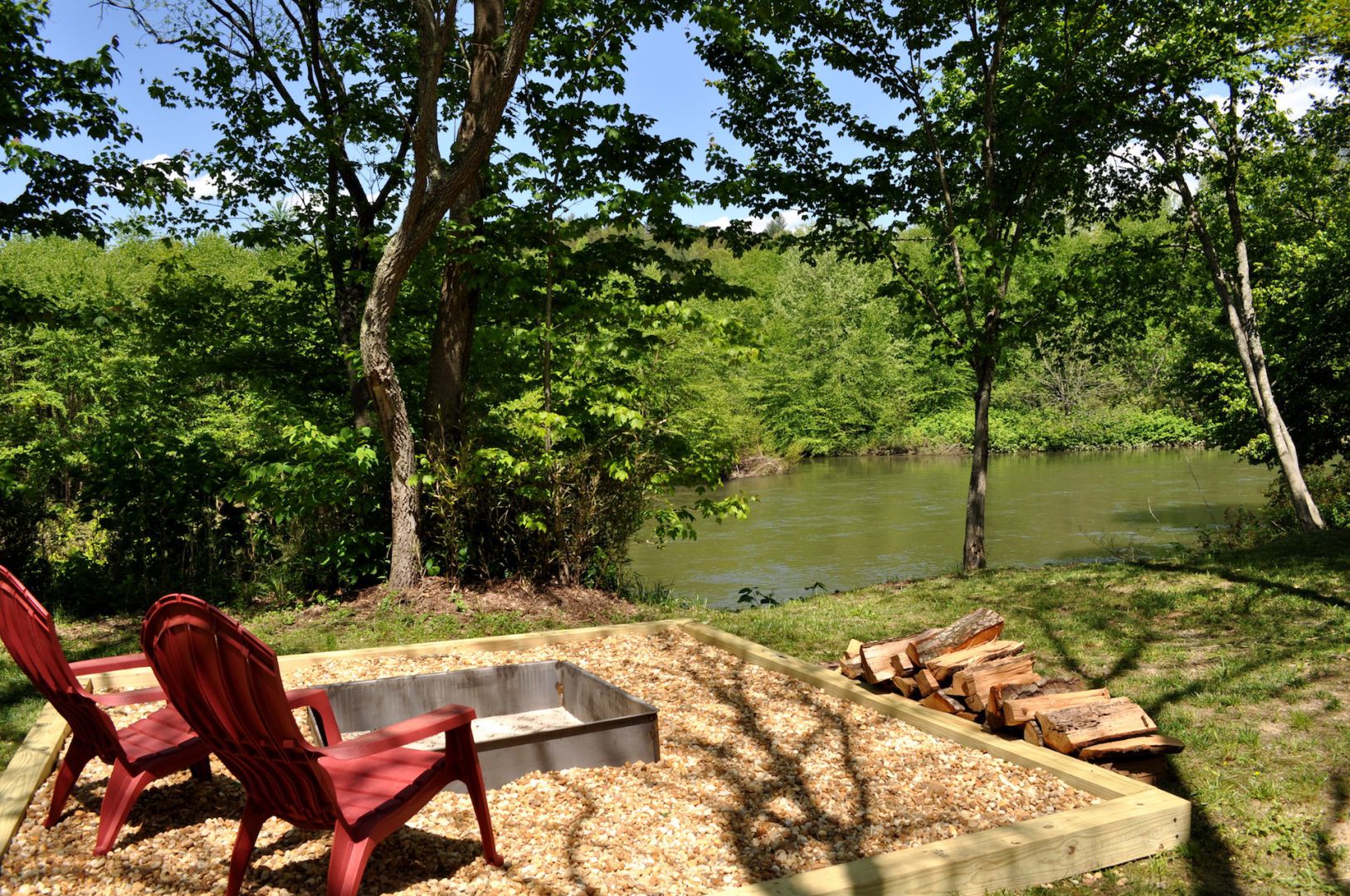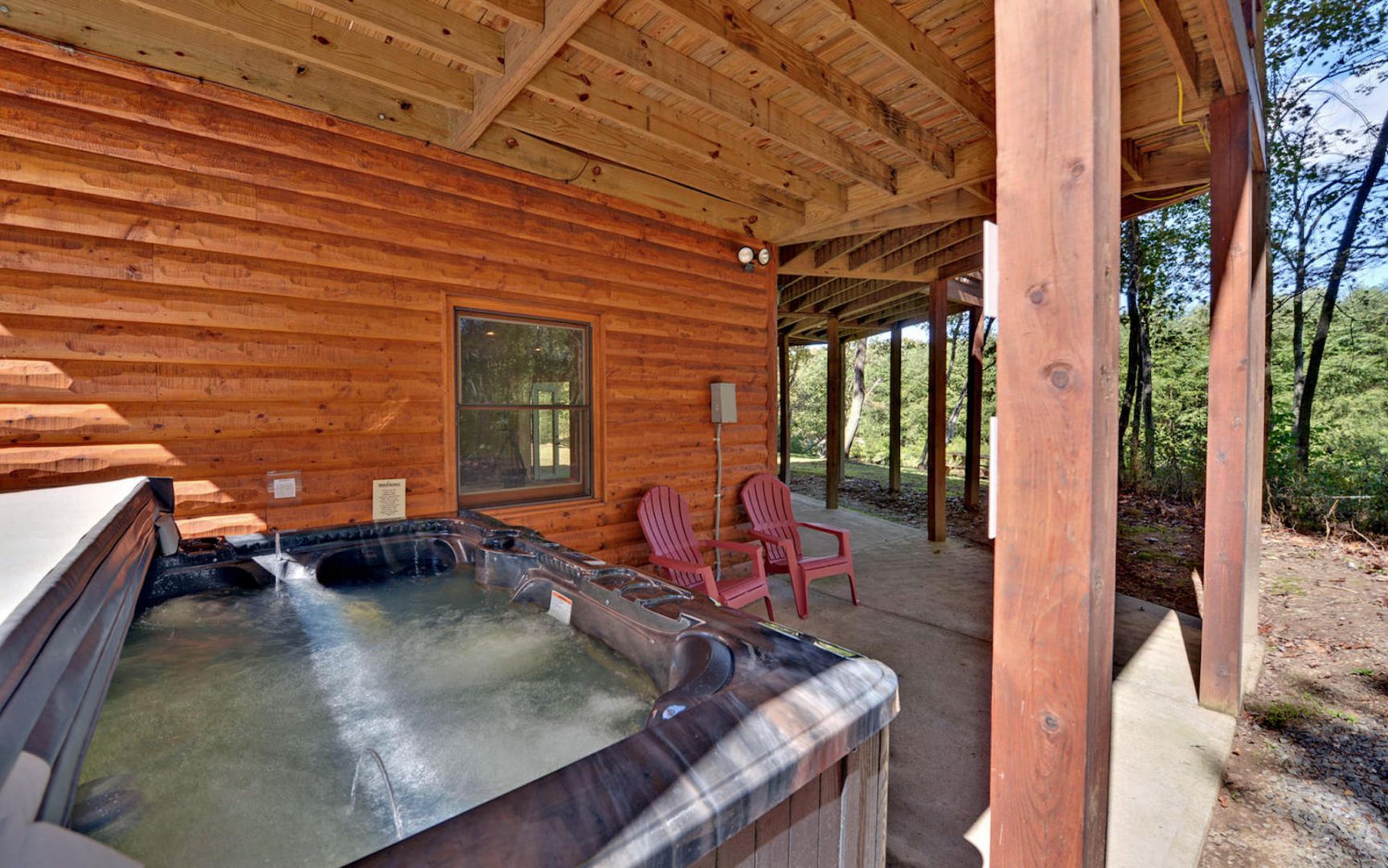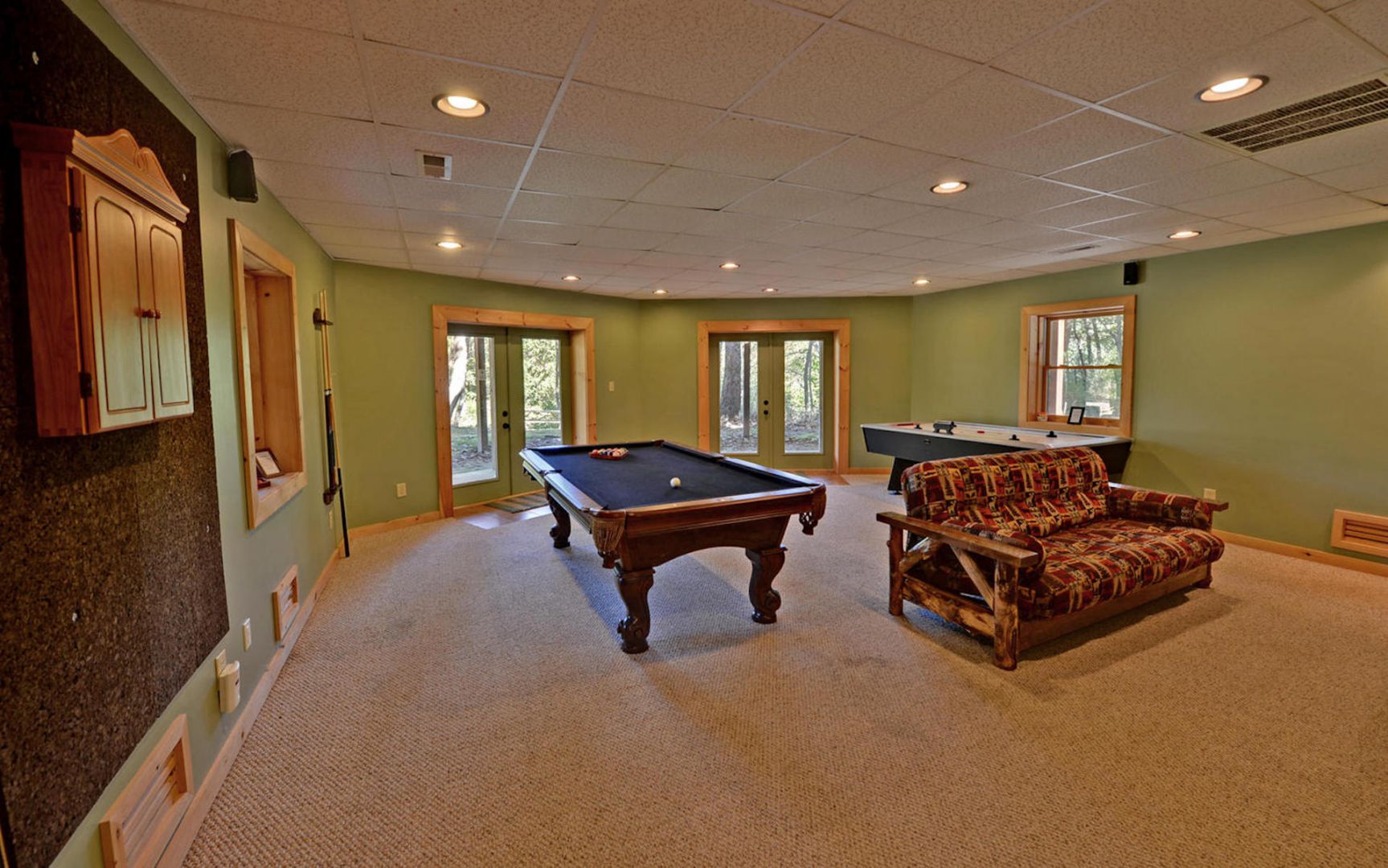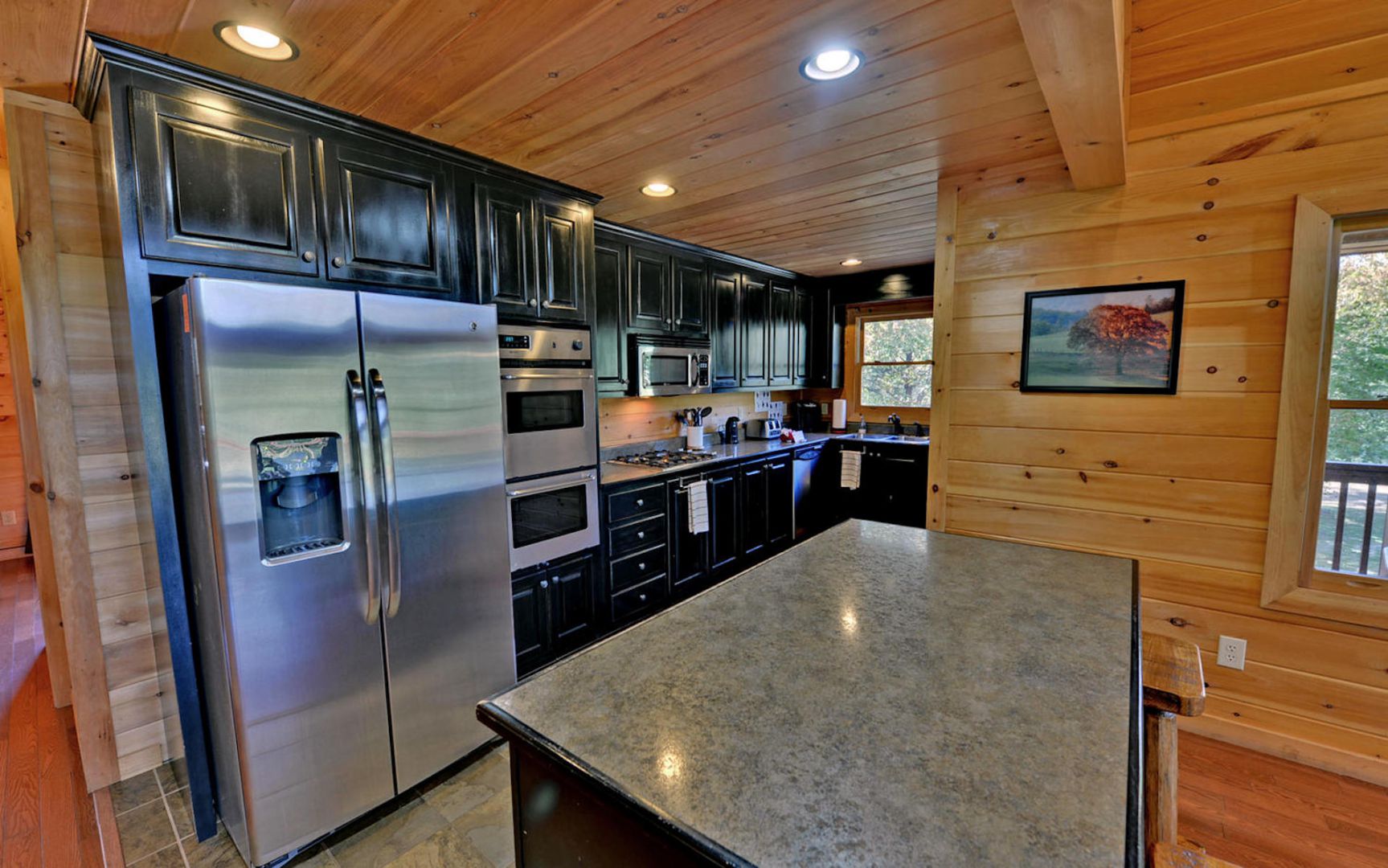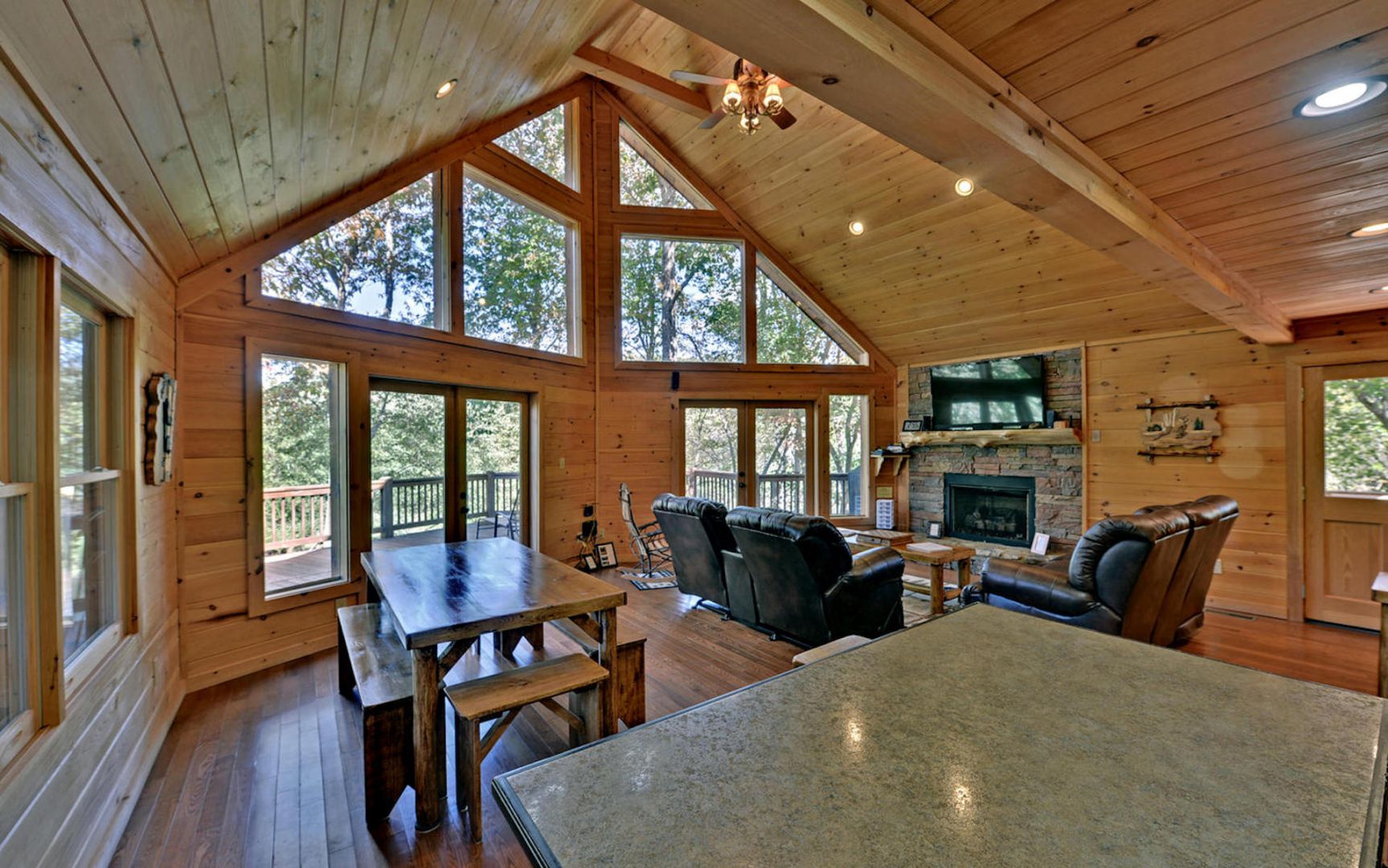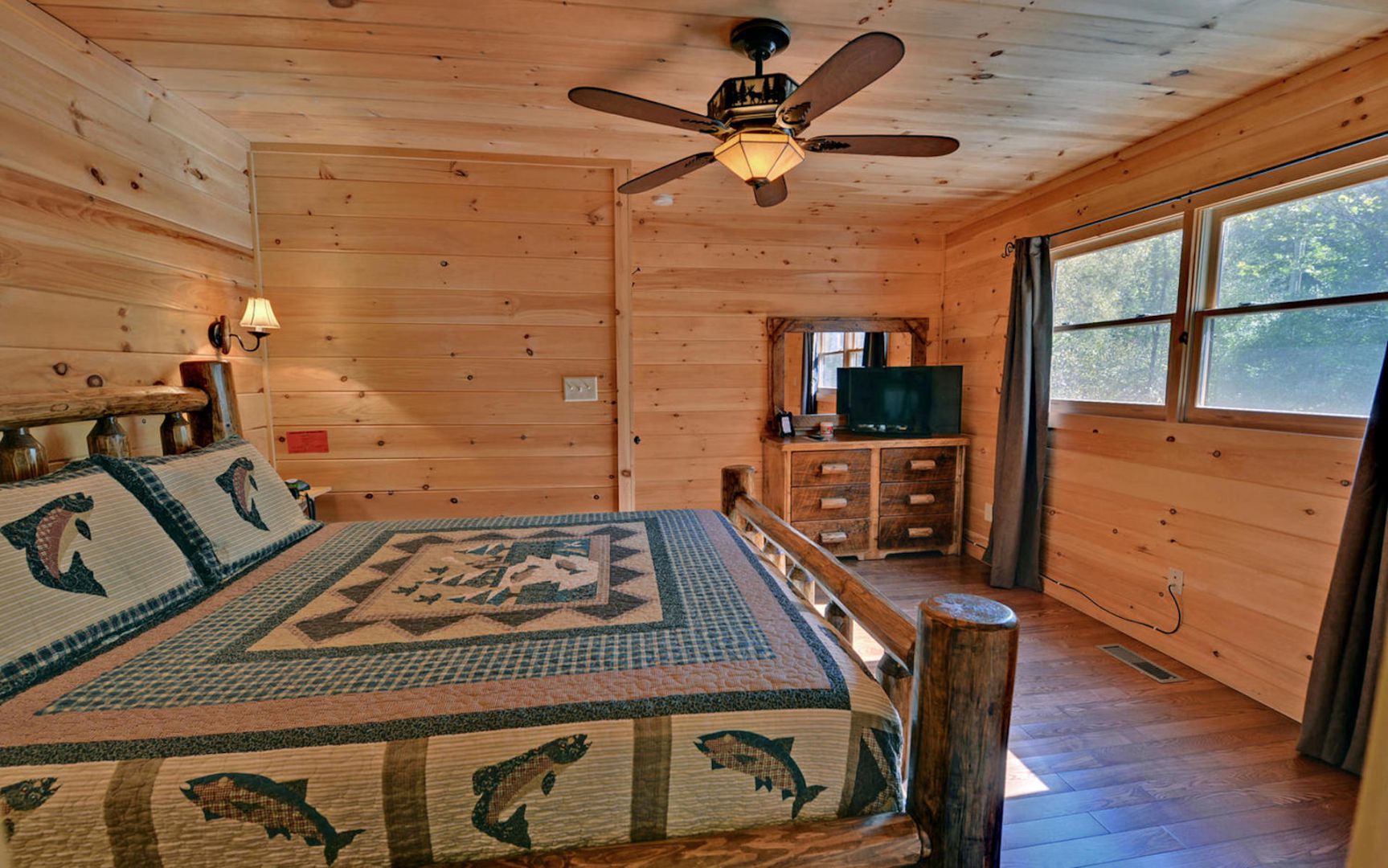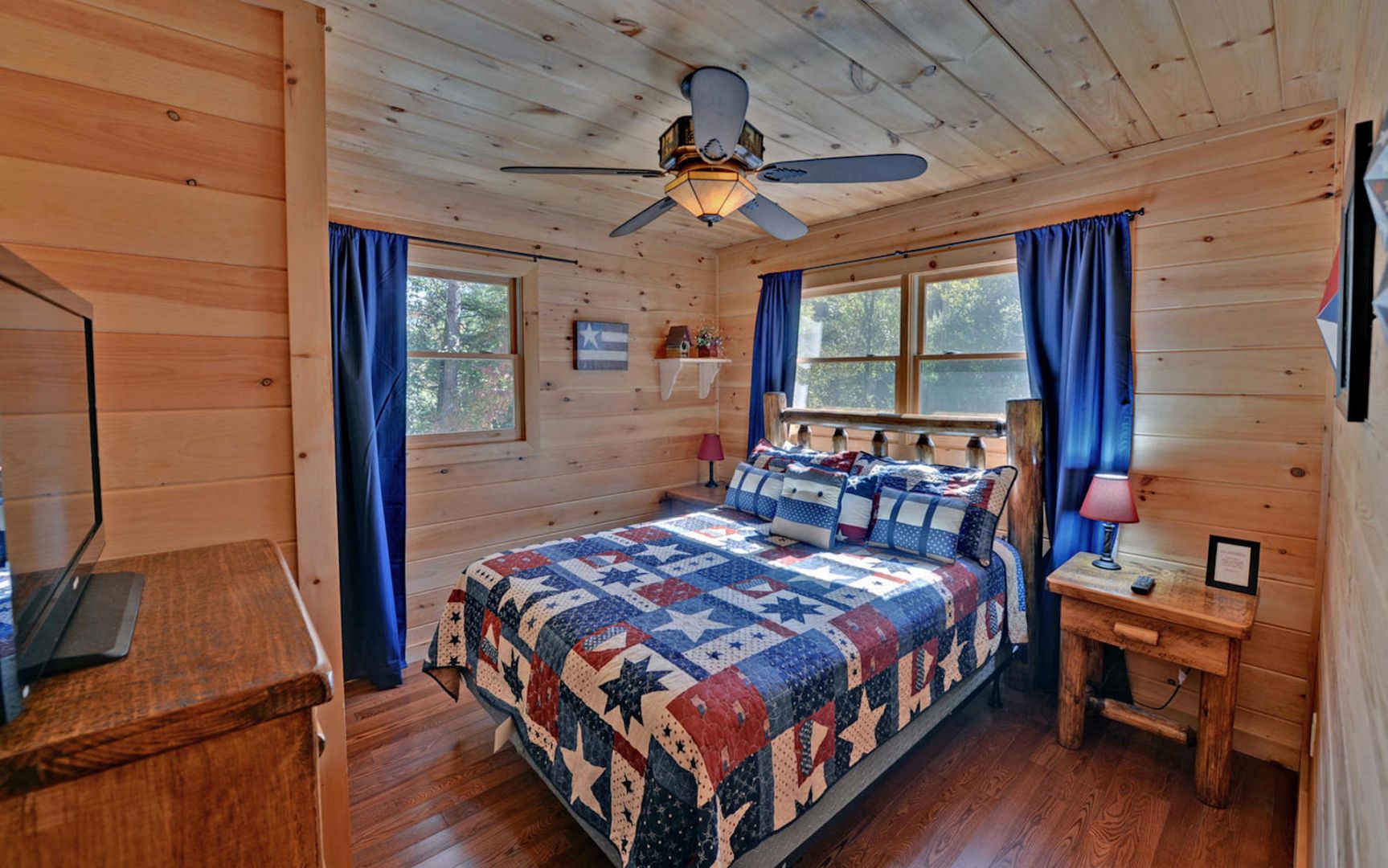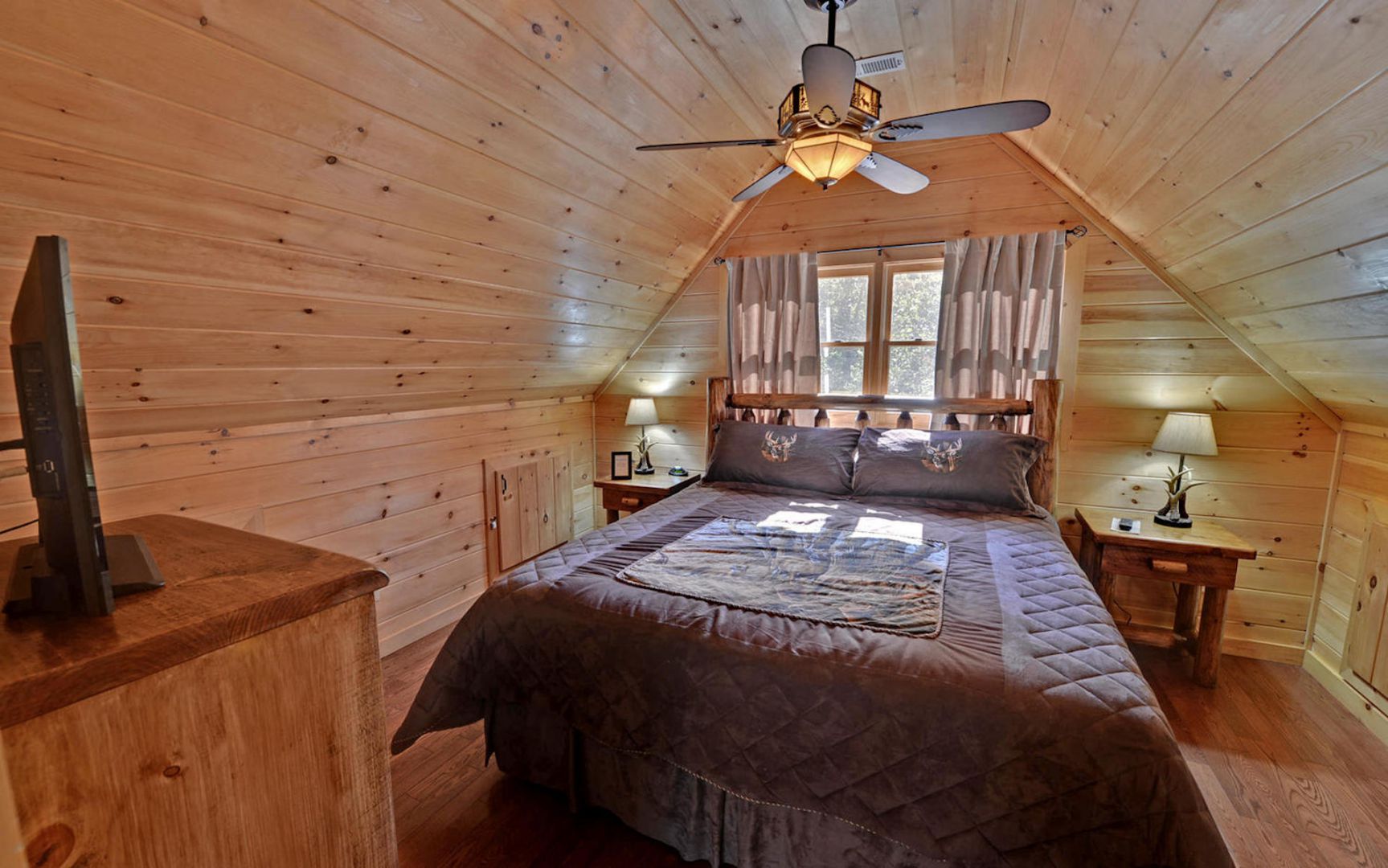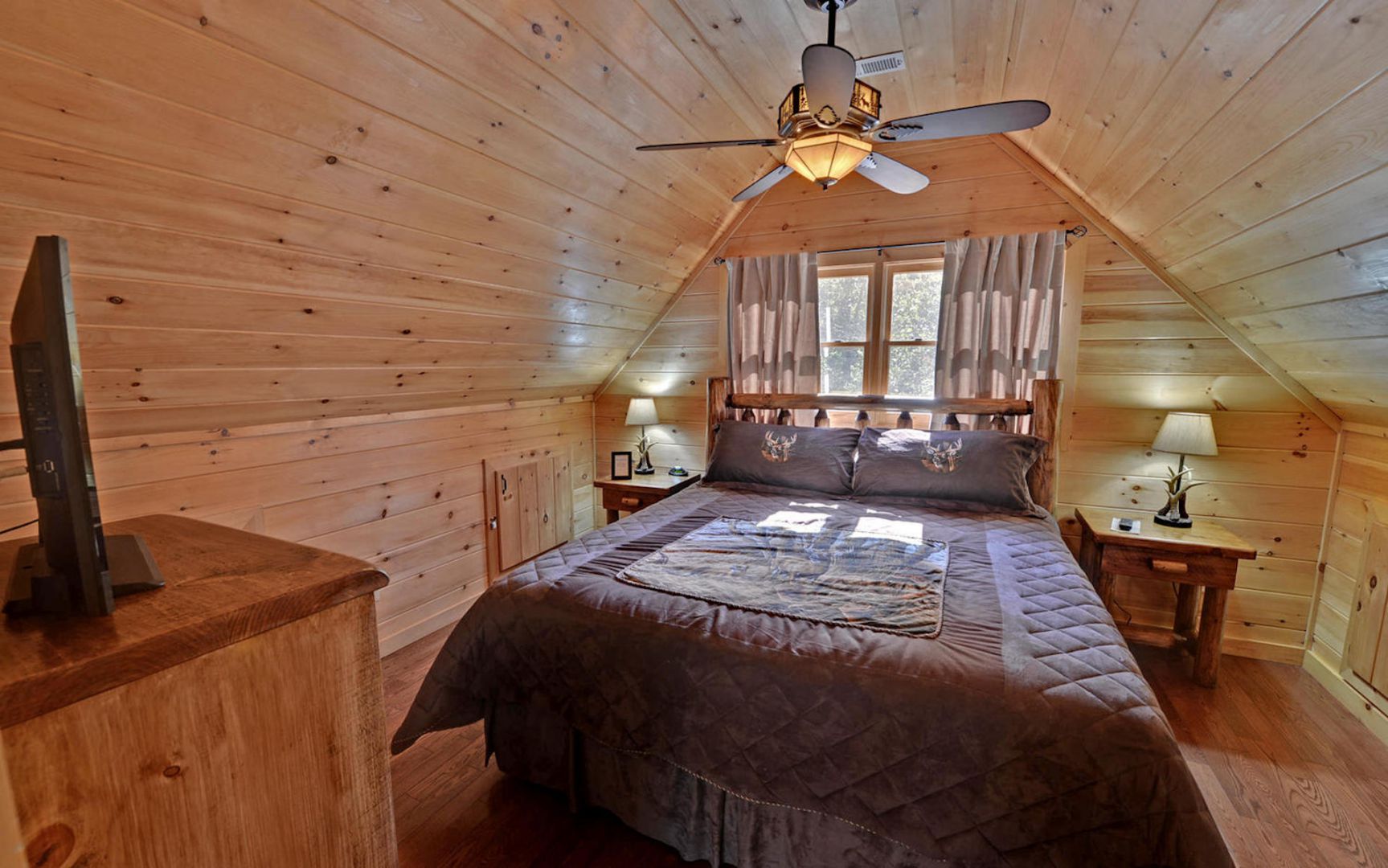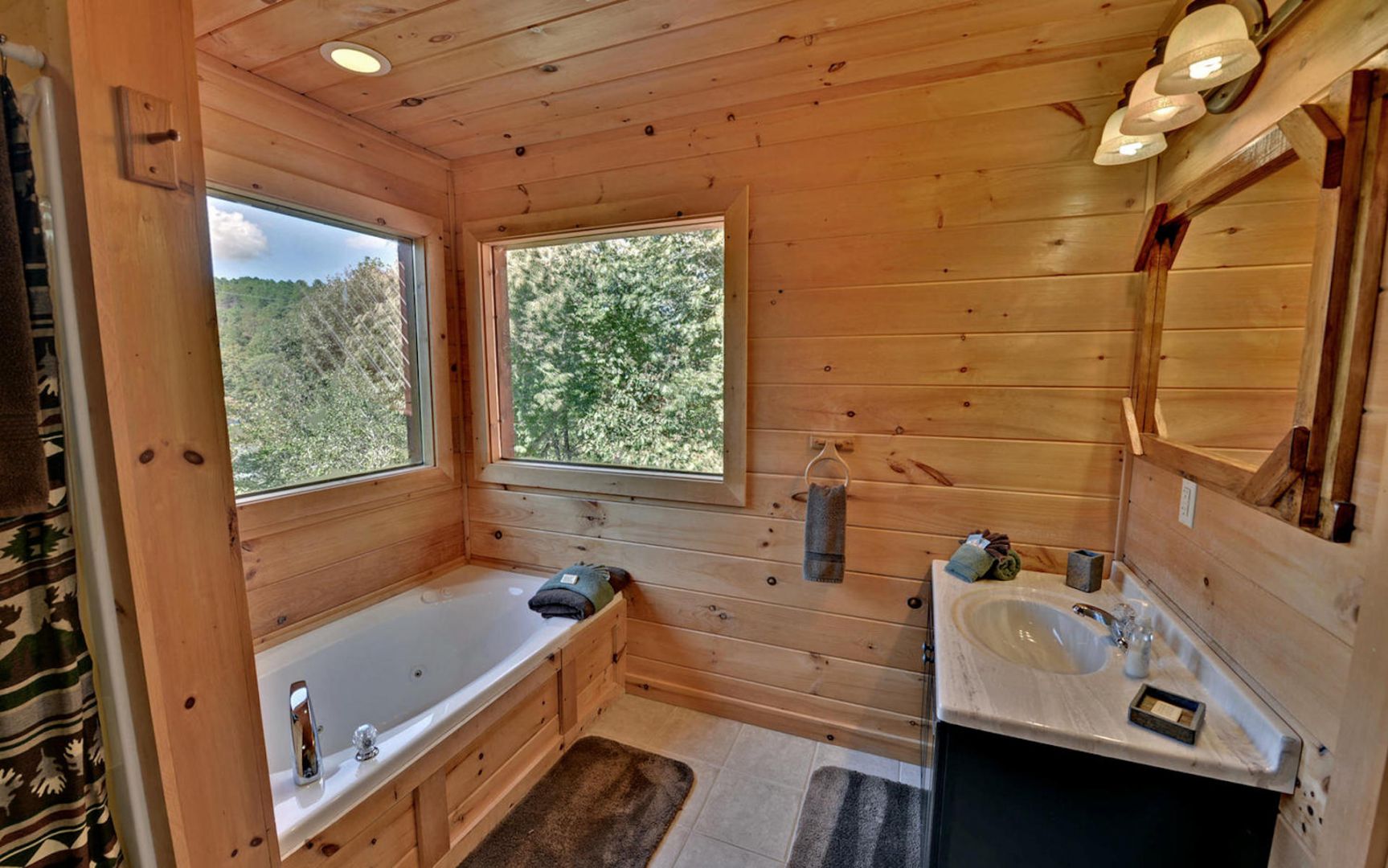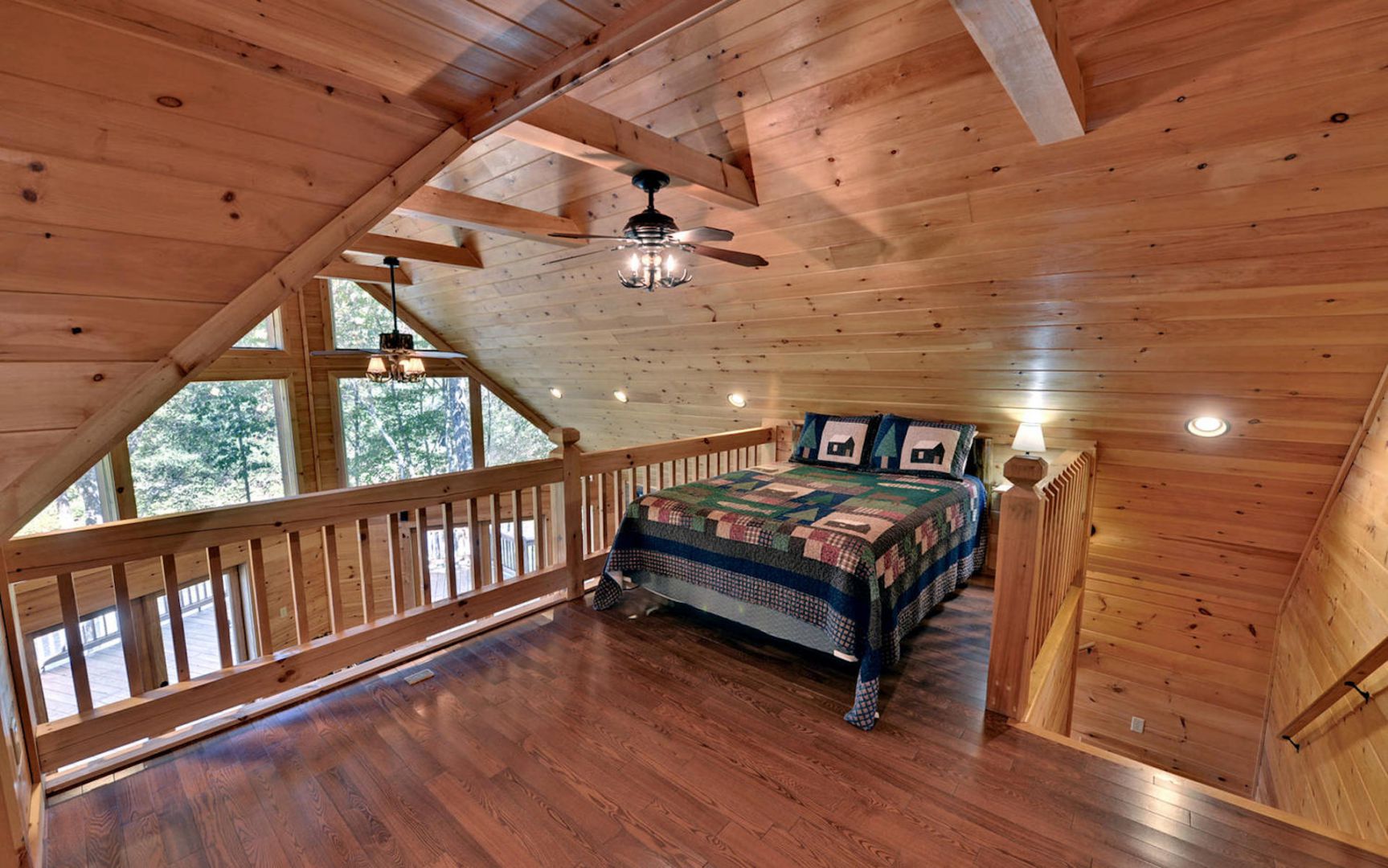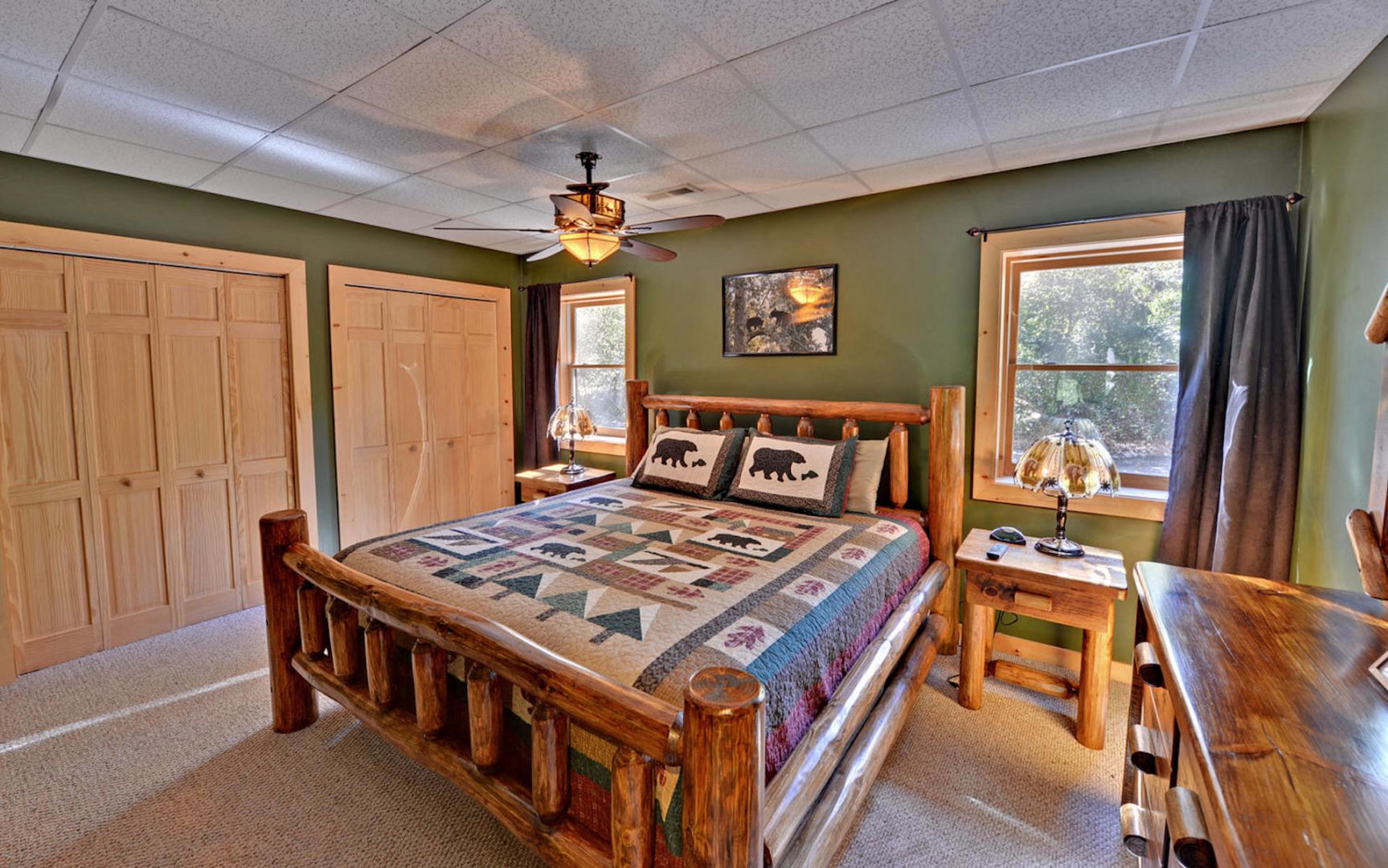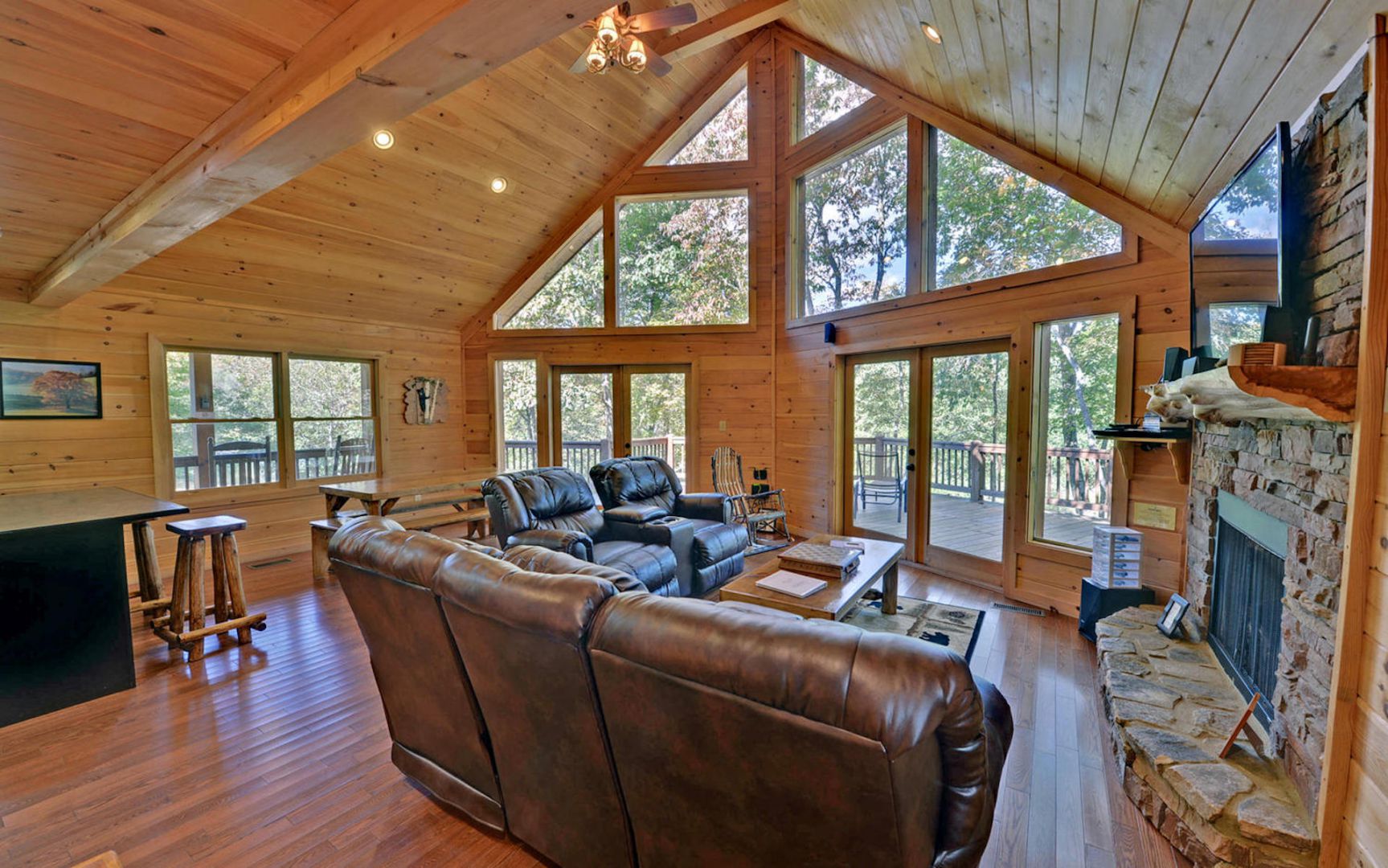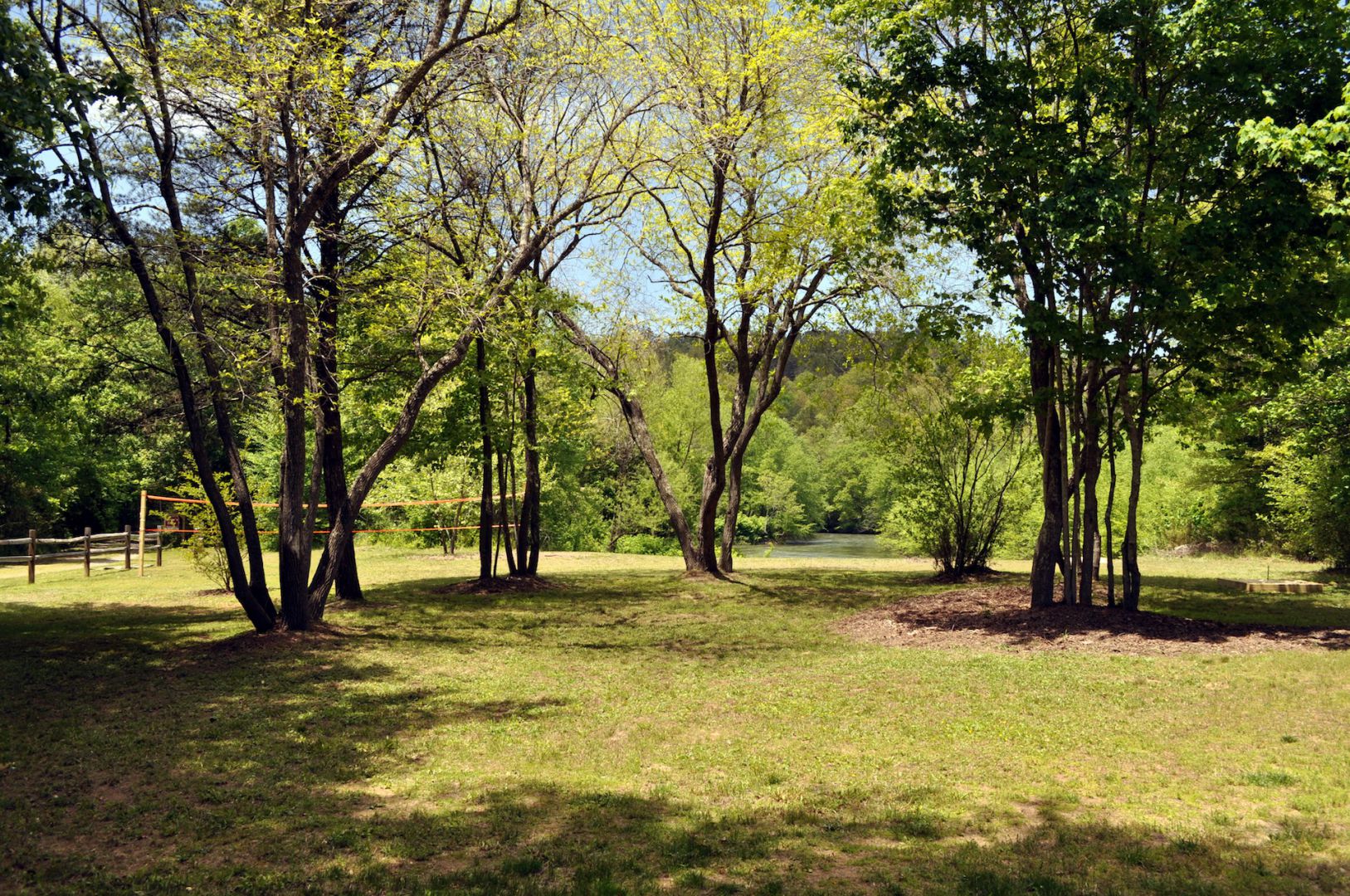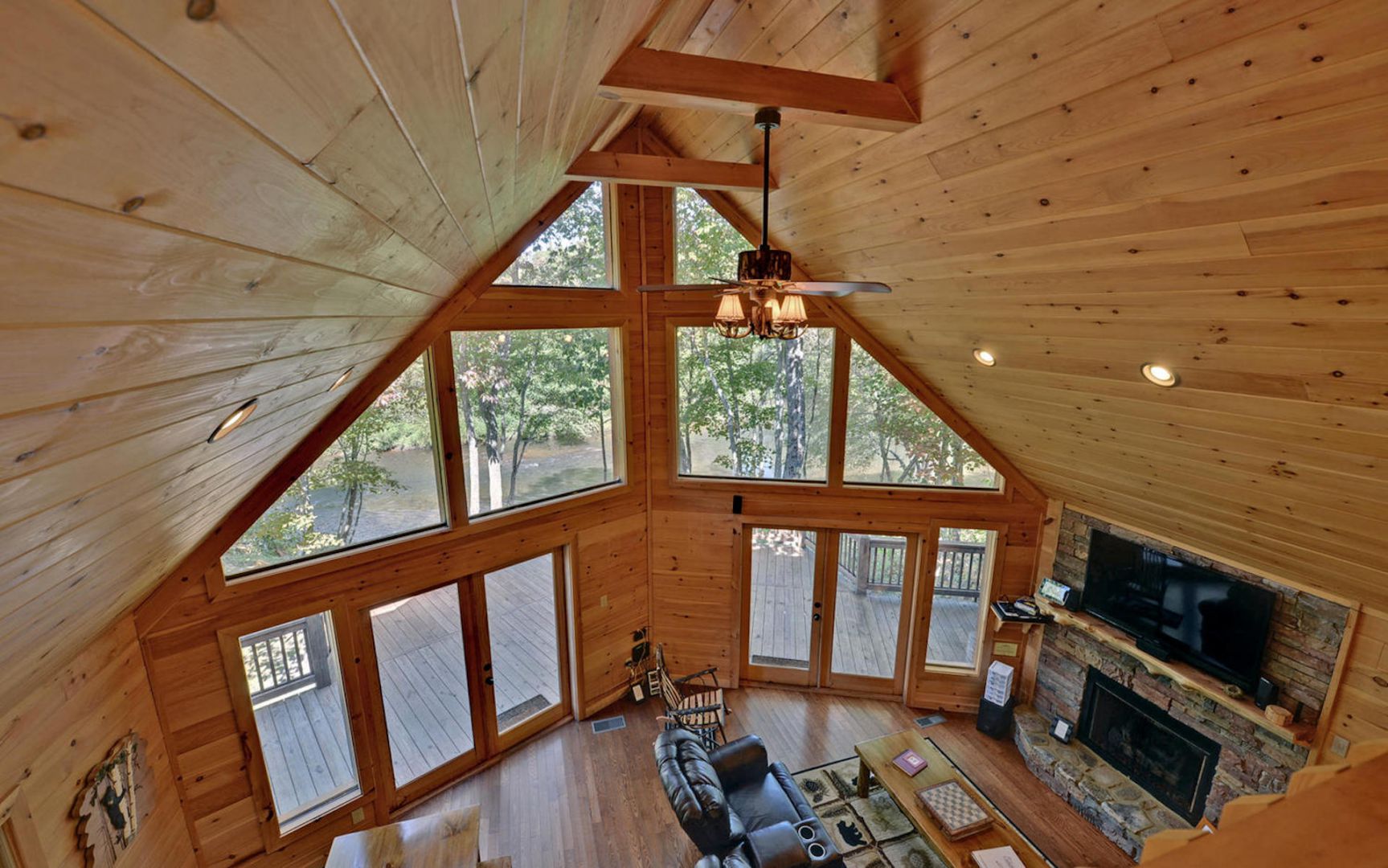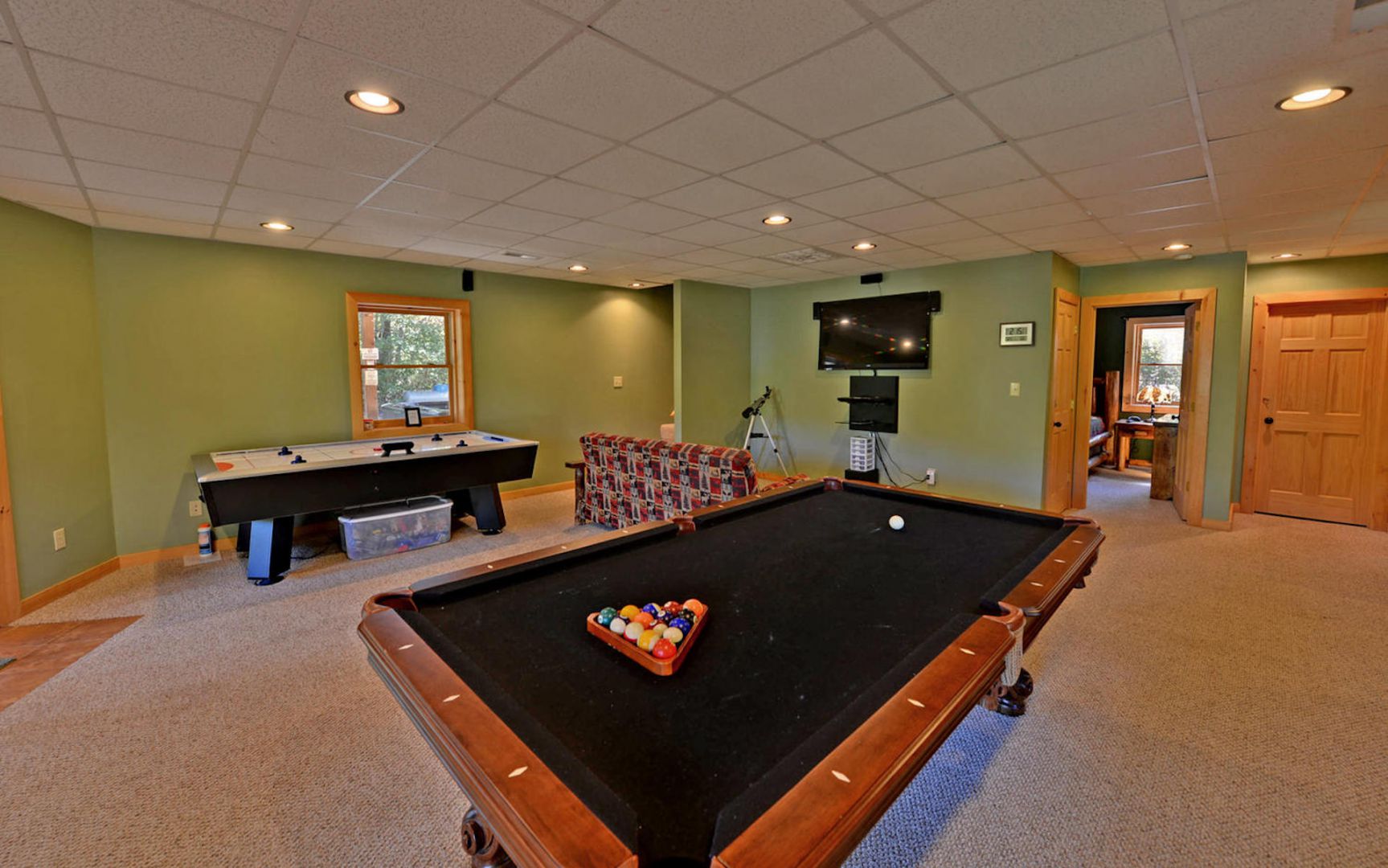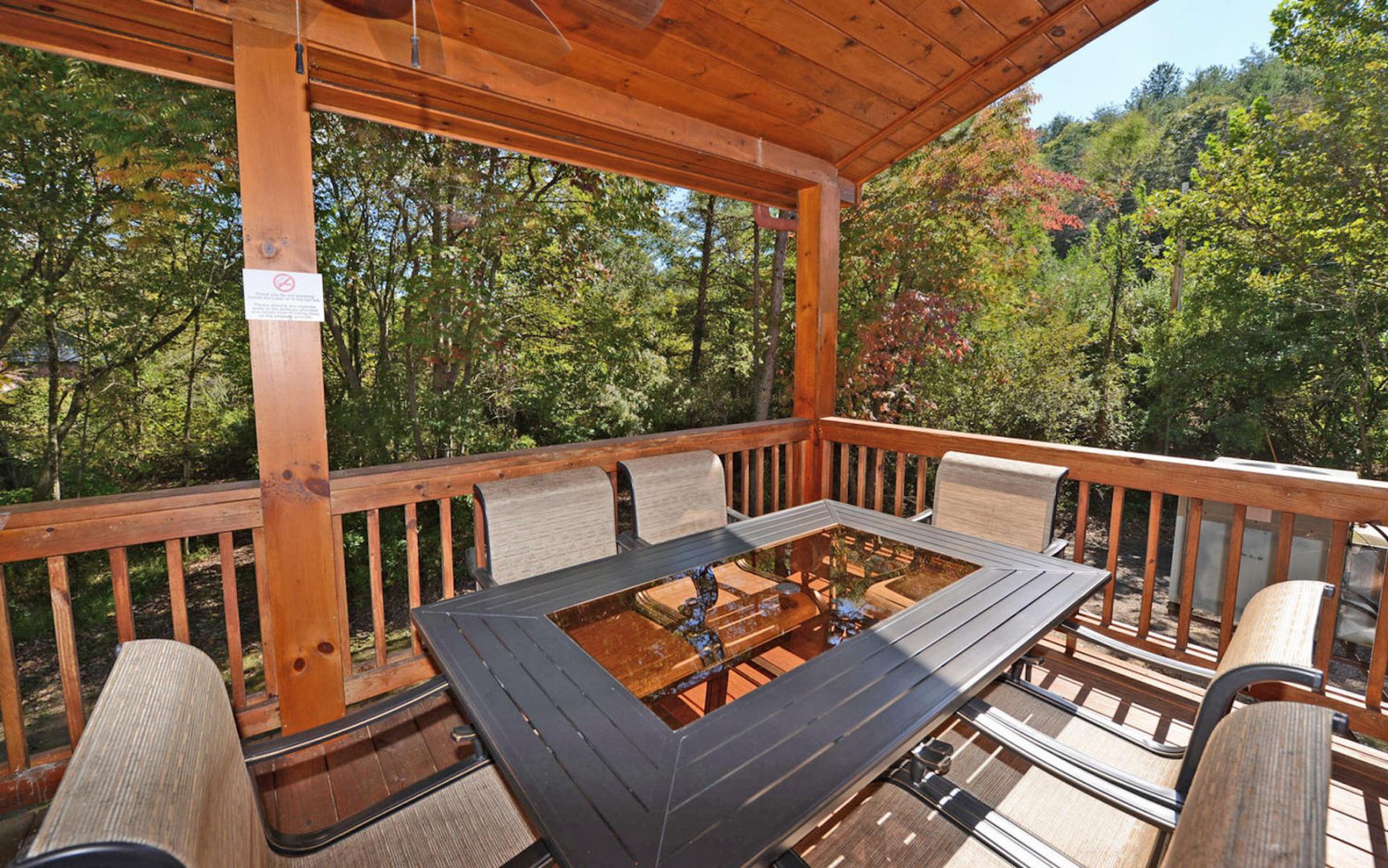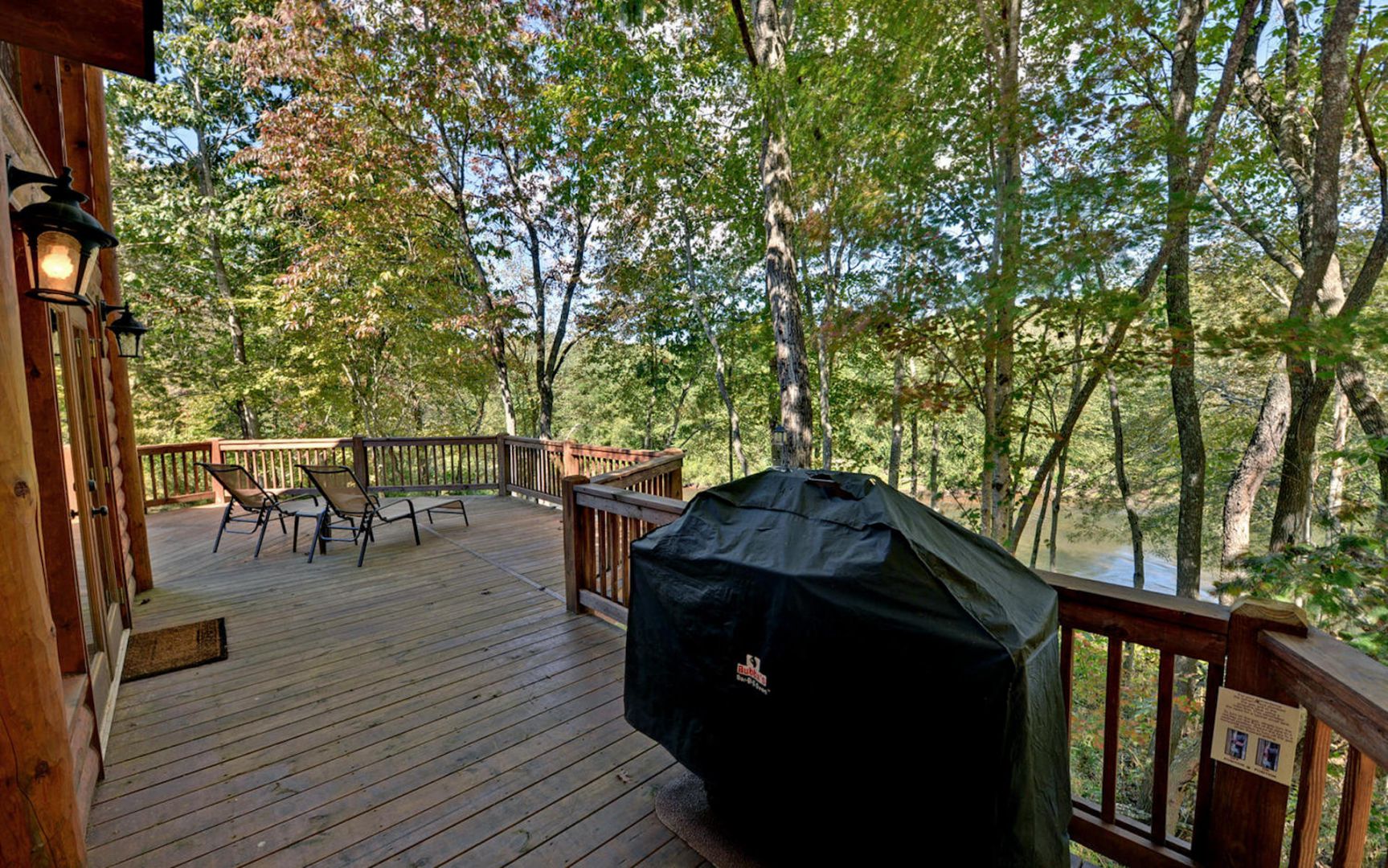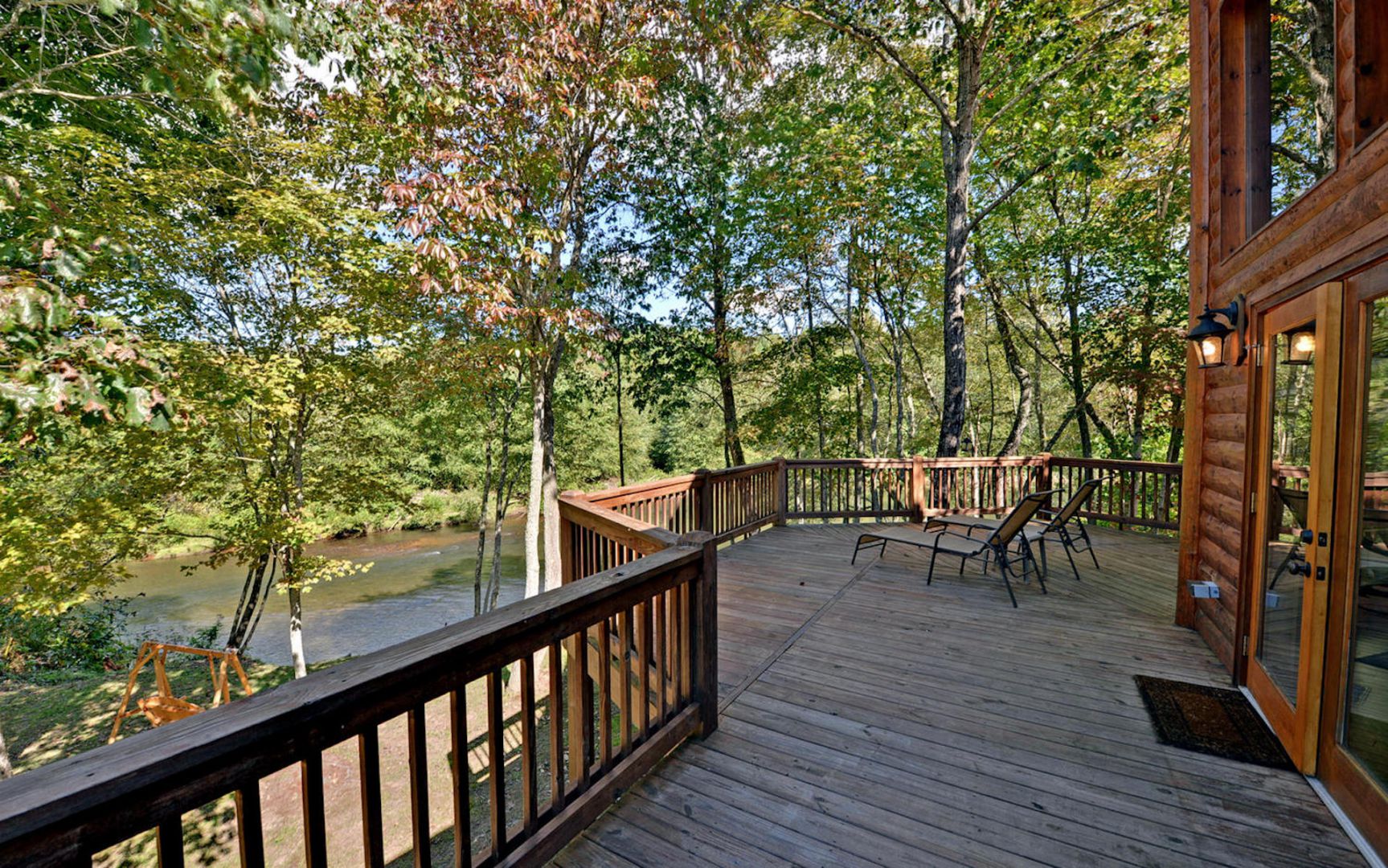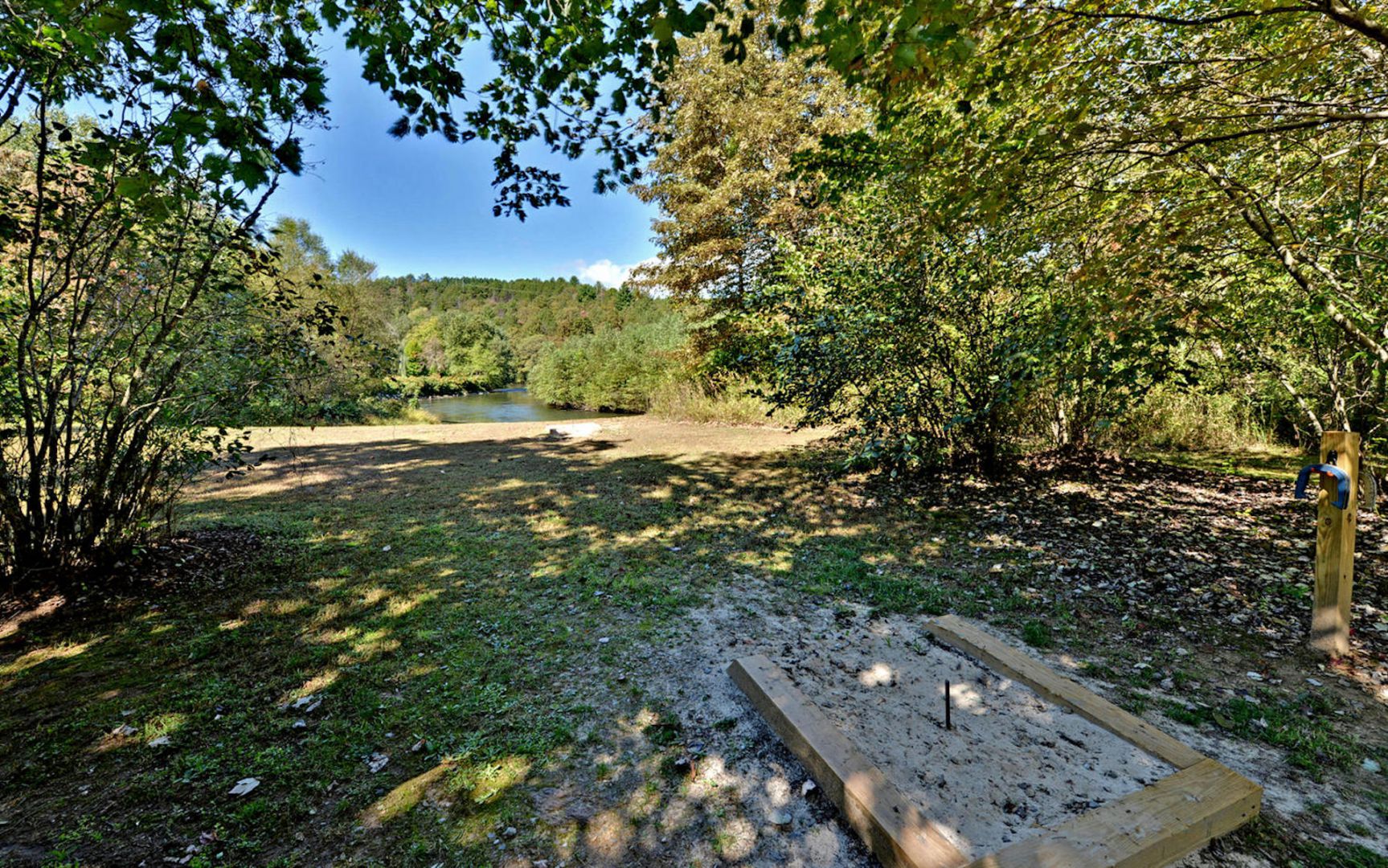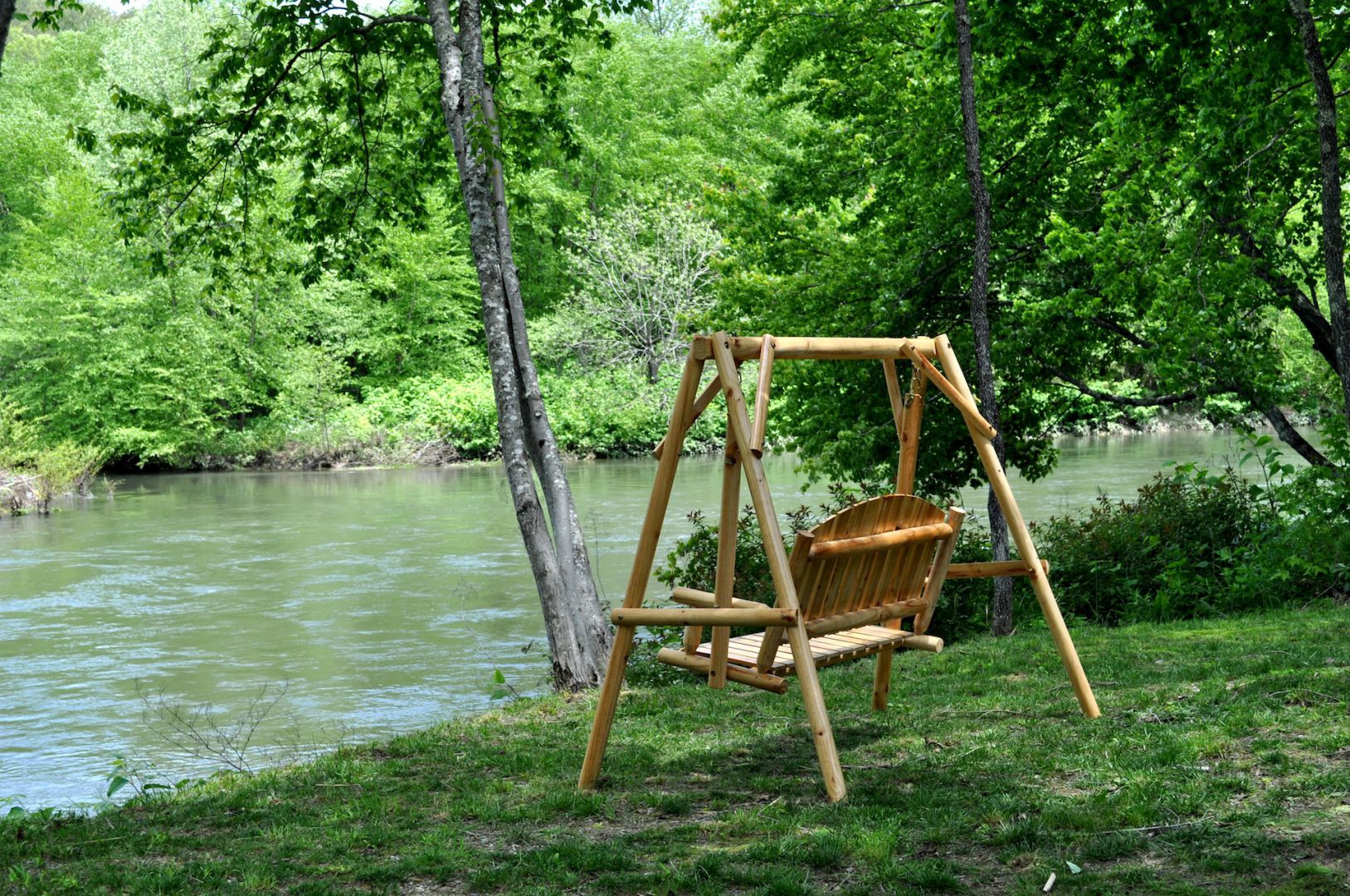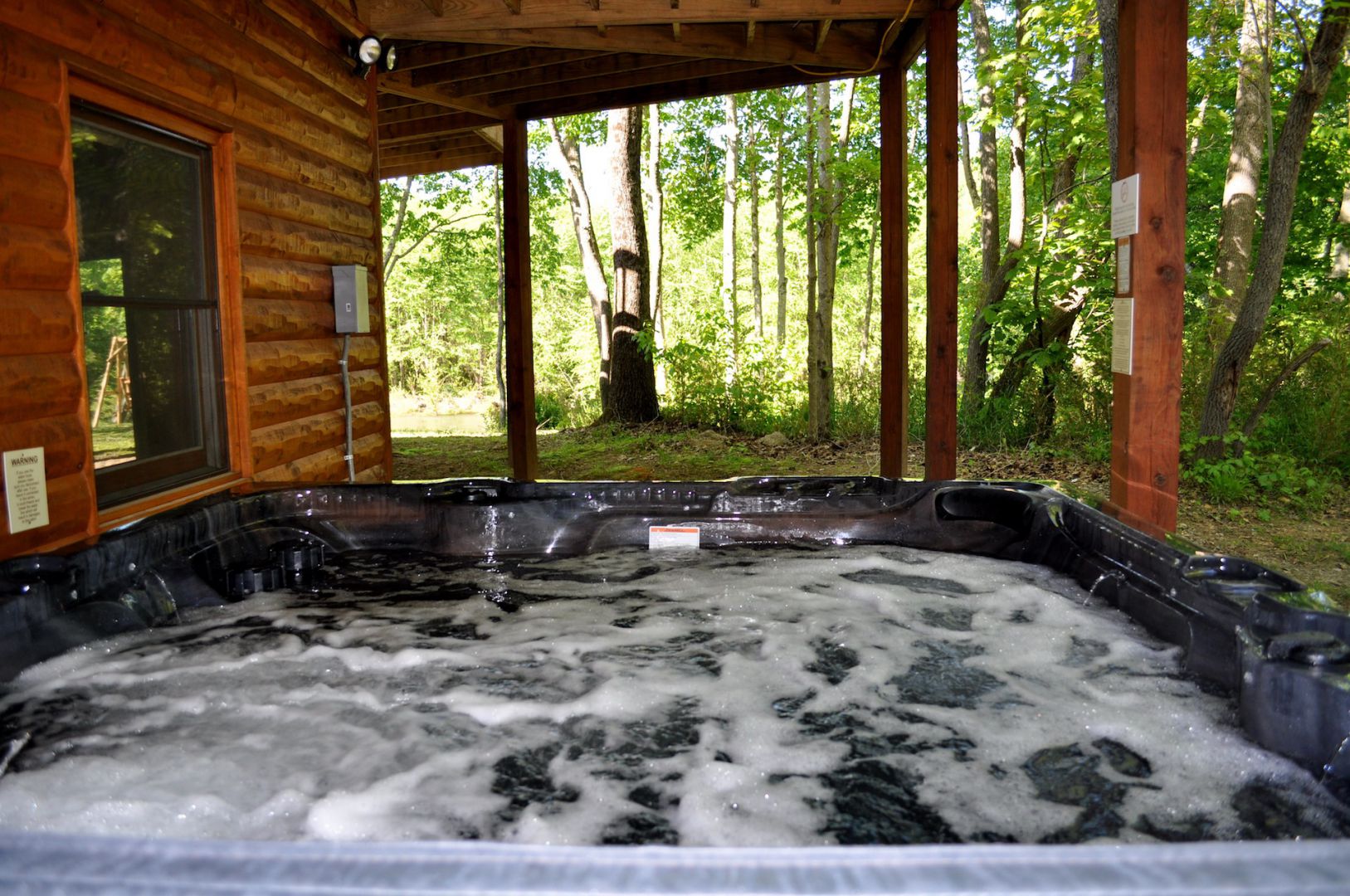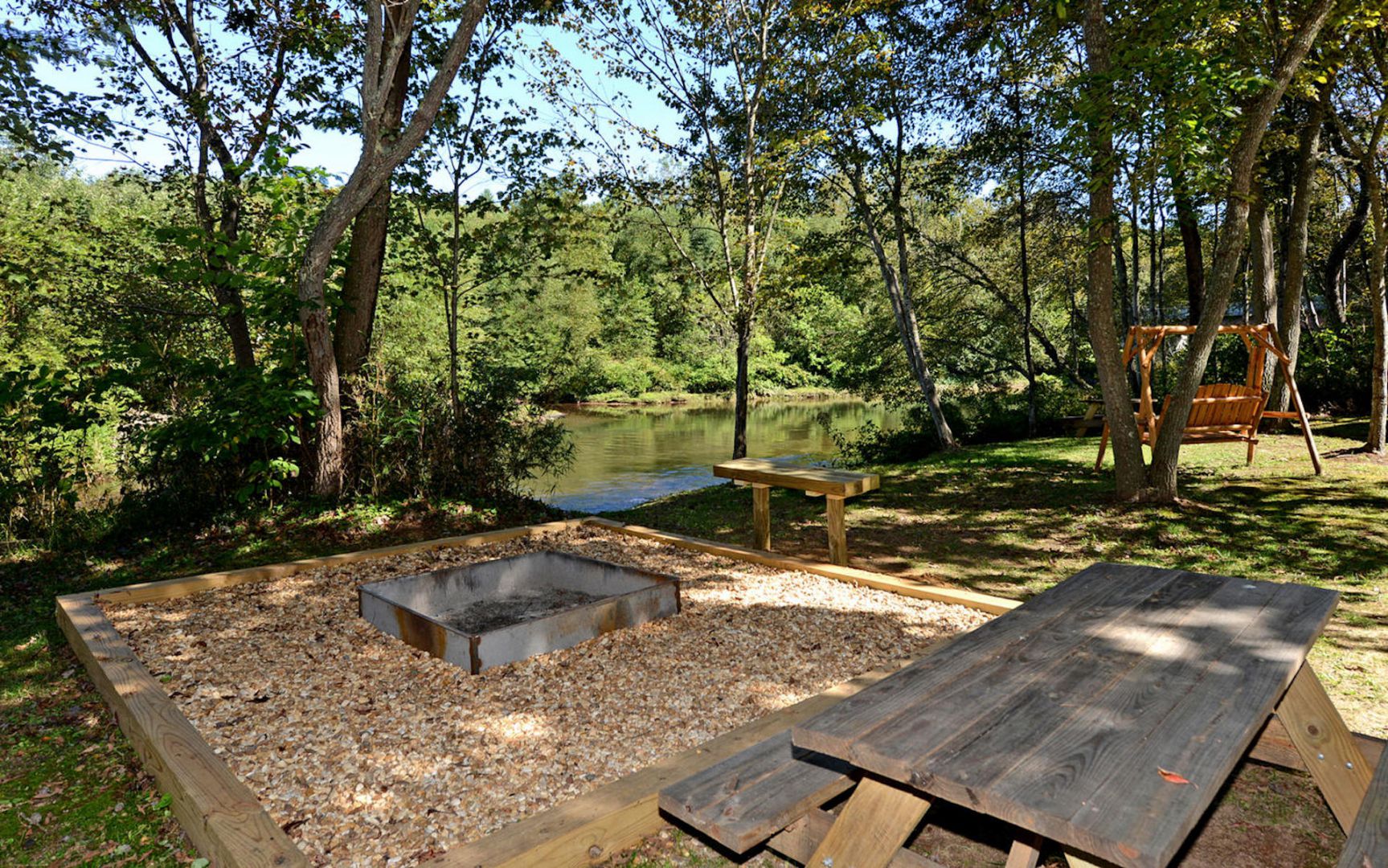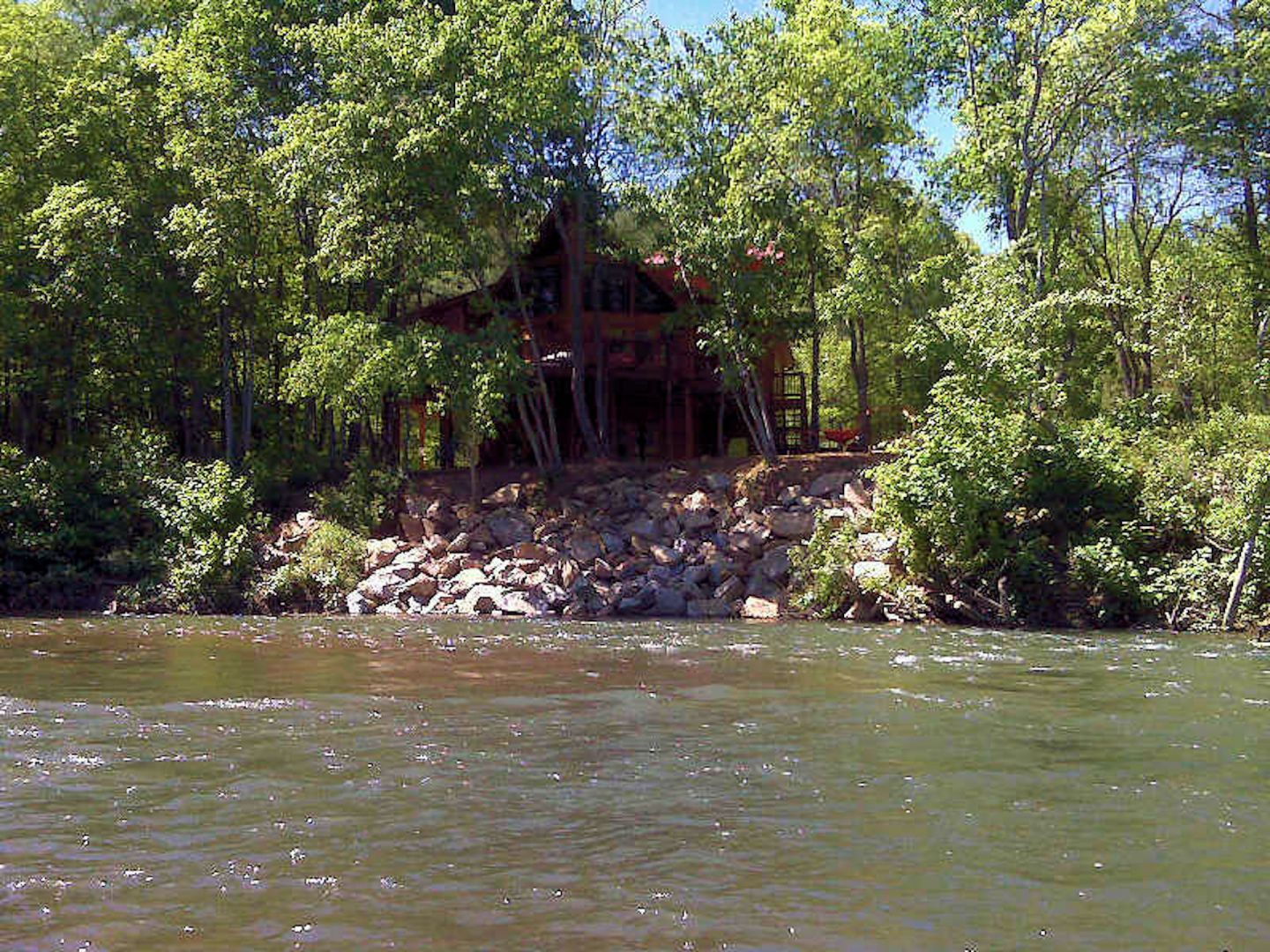 «
»
| | |
| --- | --- |
| Guests | 2 |
| Bedrooms | 6 |
| Bathrooms | 10 |
Icons Go Here
Description
**Free Activities Included! To enhance your vacation experience, Cuddle Up Cabin Rentals includes Xplorie, which means free admissions and rentals everyday of your stay at select popular attractions in the area. Please Click Here to see the free fun included with Cuddle Up Cabin Rentals**
Take a second and think about how you really want to spend your next vacation…. Stretched out with a good book, basking in the warmth of the sun as it cascades through surrounding windows and fixed glass? Maybe you would rather peacefully rocking away your cares, soaking in the crisp, cool mountain air and watching the waters of the famous Ocoee River meander past. What about a private spot to settle or inspire a friendly bet by squeezing in a quick game of riverside volleyball or horseshoes, or walking hand in hand helping little ones explore in a large, level, landscaped lot? Does your idea of the end to a perfect day's vacation include sitting down for a family meal to go over the days adventures, followed by stories over a fireside dessert of fresh s'mores, or staying inside to break out the popcorn and snacks for a 3-D movie night? If you're like most people then you have no problem visualizing the scenes above, smiling with the instant realization, "Now THAT sounds like a vacation!" That is a vacation, a vacation well spent at our unique Ocoee River retreat, Rivers Edge.
Edge is anything but your typical North Georgia Mountain retreat. Elements of modern luxury cabin design and comfort combine seamlessly with pieces of traditional décor. Multiple bedrooms with massive handmade log beds, nightstands, and dressers bring the warmth and wonder of the outdoors inside, creating an earthy backdrop for perks like flat screen TVs, amenities that come with luxury vacation rentals. Details, personal touches, and upgrades above and beyond the standard vacation rental amenity list abound throughout the cabin and extend to the cabin grounds. Volleyball, badminton, and horseshoes are available outside; while inside the game room guests have access to a 55in 3D smart TV with Blue Ray DVD player and Surround Sound, a full size pool table, air hockey, and a handmade bar with beverage fridge and microwave for snacks. Edge Great Room, located on the cabin's main living level, is truly great, with fixed glass that spans the entire first and second level of the cabin giving even guests sleeping in the loft a breathtaking view of the Ocoee River flowing outside. Leather sofas and recliners share the expansive living area open floor plan with a handmade log dining table and chairs, all with access to the kitchen. Another great spot for movies, the Great Room also has a 55in 3D smart TV with Blue Ray DVD player and Surround Sound and with the kitchen close by cool drinks and snacks are within ear and eyeshot of the massive flat screen and booming speakers. Even the little details and upgrades did not escape the attention of the Edge owners— guests will find a traditional Mr. Coffee at their disposal in the fully stocked kitchen, or guests can choose to bring their favorite K-Cups along and enjoy the Keurig single cup coffeemaker!
Precious amenity unique to River's Edge and its grounds is its sheer size and the personal space it provides guests. With 4 bedrooms, an open sleeping loft, and a game room futon Rivers Edge can truly comfortably sleep 12 guests, without the use of multiple sleeper sofas, daybeds or multiple beds sharing a single space. Spread out over multiple lots, River's Edge also provides ample level outdoor living space, something that can be very difficult to find. As the cabin grounds extend from the covered hot tub and riverside fire pit, guests will find a gentle sloping shoreline into the Ocoee River that is perfect for canoes, tubes, and kayaks than 10 minutes from the first rapids of the Upper Whitewater Section and 1996 Olympic Course, shopping and dining in downtown Copperhill TN, and just over 10 miles from the Blue Ridge Scenic Railway Depot in historic downtown Blue Ridge, GA River's Edge truly has the perfect location to make it your dream vacation destination. We invite you to come to River's Edge and see what it's like to "rough it" North Georgia Mountain Style!
Amenities
This cabin does NOT allow pets
Ocoee Riverfront Cabin
Wi-Fi
Great trout fishing, literally steps outside the front door!
Sloping shoreline into Ocoee
Bring your Canoes, Tubes and Kayaks
Hot Tub
Large lot with plenty of room right on the river bank
Fire Pit (Guests supply firewood)
Outdoor Dining on Main Level Covered Deck
Gas Grill
Horseshoe Pit
Volleyball and Badminton
Queen Bed in Sleeping Loft
Loft Bedroom with King Bed & 32 inch flat screen TV
Terrace Level Bedroom with King bed & 46 inch HD flat screen
55 inch 3D smart tv in the main living area with 3D blue ray, DVD and surround sound
Queen beds have 32 inch flat screens in both Main Floor Bedrooms
Jetted Jacuzzi Tub Loft Bathroom
Pool Table & Air Hockey in Game Room
Remote Controlled Seasonal Gas Log Fireplace in Game Room
Remote Controlled Seasonal Gas Log Fireplace in Great Room (Available October 1st- March 31st. Gas logs are disabled during the Summer months.)
Decks & Covered Porches
Picnic Tables
Mr. Coffee & Keurig K-Cup (please bring your own favorite K-Cup flavors
Fully equipped kitchen
Washer & Dryer on Main Level
Central Heat & A/C
55 inch 3D smart tv blue ray, DVD, & surround sound in game room **If you want to bring your XBOX or Playstation bring an HDMI cable
Futon in terrace level game room
Rates
* Rates are subject to change without notice. Pricing excludes taxes, additional options and fees.
| | | | | | | | | | |
| --- | --- | --- | --- | --- | --- | --- | --- | --- | --- |
| Vacation Rental Standard Pricing | Sun | Mon | Tue | Wed | Thu | Fri | Sat | Min Nights | |
| Peak Season | $300.00 | $300.00 | $300.00 | $300.00 | $300.00 | $300.00 | $300.00 | 3 | |
| Holiday Season | $350.00 | $350.00 | $350.00 | $350.00 | $350.00 | $350.00 | $350.00 | 3 | |
| Low Season | $195.00 | $195.00 | $195.00 | $195.00 | $195.00 | $195.00 | $195.00 | 2 | |
| Mid Season | $195.00 | $195.00 | $195.00 | $195.00 | $195.00 | $195.00 | $195.00 | 2 | |
---
| | | | | | | | | | | | |
| --- | --- | --- | --- | --- | --- | --- | --- | --- | --- | --- | --- |
| Season | Start | End | Sun | Mon | Tue | Wed | Thu | Fri | Sat | Min Nights | |
| Martin Luther King Jr. Holiday Weekend | 1/16/2020 | 1/20/2020 | $300.00 | $300.00 | $300.00 | $300.00 | $300.00 | $300.00 | $300.00 | 3 | |
| Valentine/Presidents Day Weekend | 2/13/2020 | 2/17/2020 | $300.00 | $300.00 | $300.00 | $300.00 | $300.00 | $300.00 | $300.00 | 3 | |
| Memorial Day Weekend | 5/21/2020 | 5/25/2020 | $300.00 | $300.00 | $300.00 | $300.00 | $300.00 | $300.00 | $300.00 | 3 | |
| Fourth of July | 7/2/2020 | 7/8/2020 | $300.00 | $300.00 | $300.00 | $300.00 | $300.00 | $300.00 | $300.00 | 4 | |
| Labor Day Weekend | 9/4/2020 | 9/7/2020 | $300.00 | $300.00 | $300.00 | $300.00 | $300.00 | $300.00 | $300.00 | 3 | |
| Fall Color & Festivals | 10/1/2020 | 10/26/2020 | $300.00 | $300.00 | $300.00 | $300.00 | $300.00 | $300.00 | $300.00 | 3 | |
| Thanksgiving Holiday | 11/24/2020 | 11/29/2020 | $350.00 | $350.00 | $350.00 | $350.00 | $350.00 | $350.00 | $350.00 | 4 | |
| Christmas Holiday | 12/19/2020 | 12/26/2020 | $350.00 | $350.00 | $350.00 | $350.00 | $350.00 | $350.00 | $350.00 | 5 | |
| New Years 2019 | 12/27/2020 | 1/1/2021 | $350.00 | $350.00 | $350.00 | $350.00 | $350.00 | $350.00 | $350.00 | 4 | |
---
Notes
Check In 4:00 pm EST
Check Out 11:00 am EST
$300 payment required at time of booking or payment in full if arrival is less than 2 weeks away
Must be 25 years old to rent cabin
Cabins cannot accommodate weddings, rehearsals, or large parties
Even last minute reservations are subject to cancellation penalties
Featured Rental Cabin
Blue Ridge
8 Guests
4 Bedrooms
3 Bathrooms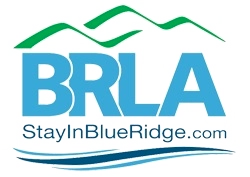 Blue Ridge Loging Association